The Retail and Consumer Packaged Goods (CPG) industries continue to be in a recovery phase following two very challenging years. While there is no doubt the three macro headwinds – inflation, interest rates and the war in Ukraine – will continue to have an impact in 2023, ISG sees a path to recovery. Growth is on the horizon, and we advise companies to embrace the situation and plan for the future.
It is important to distinguish between three key sub-sectors: 1) Retail 2) Fashion Retail and 3) CPG. Retail and the CPG sectors are traditionally very low-margin businesses; Fashion Retail has a wide range of margin outcomes.
Let's first look at some common trends that apply across all three:
Modernizing infrastructure and applications: Retail and CPG companies traditionally have struggled with legacy infrastructure and disjointed solutions that have grown over the years in both organic and inorganic ways. This has meant that CIOs and CDOs have had to look at strategic solutions to align with the wider business goals of enhancing customer experience and increasing agility, resilience and scalability. Given the current headwinds and impact on profit margins, it has become increasingly important to simplify, consolidate and modernize as a way to optimize spend and increase productivity for the business. Strategic simplification and consolidation programs can drive significant cost optimization; we've seen 30% - 80% savings for fully in-sourced organizations and upwards of double-digit savings for mature client organizations. ISG is seeing a huge trend toward digitization and, with it, a rise in cloud and ERP adoption. To achieve these kinds of outcomes, the business and technology teams need to work collaboratively to define the overall strategy. We continue to see disjointed technology teams, which can delay major simplification programs.
Investing in sustainability and ESG: We know now that consumers increasingly feel purpose in their purchasing decisions, but brands are struggling to put purpose first. Consumers today are conscious of sustainability and happy to pay a premium (up to 5%) for sustainable packaging and goods in general. They are also happy to wait to receive packages that are shipped together if they know it has an impact on the carbon footprint of their purchase. Companies need to adapt and respond to these changing consumer needs to be relevant and improve their brand recognition in the marketplace. This is an area that continues to require attention not only in terms of packaging but also in much wider terms, including ethical supply chains, impact to society, social values and overall governance.
Simplifying the supply chain: Enterprises need to simplify and modernize the supply chain. They are increasingly looking at enterprise supply chain solutions with increased automation, digital engineering, digital threads and connected technology. Investments in the back office are now mandatory to stay relevant and competitive.
Creating a customer experience strategy: Ultimately, Retail and CPG are all about the customer. They must reach the right customer at the right time, using the right channels. This requires a business-wide strategy with technology as an enabler and must be driven from the CEO office. We strongly believe that digital transformation, customer strategy and customer experience are interwoven, which is why companies are looking at a product-centric focus. The product-centric mindset requires a fundamental change in ways of working, bringing more accountability to technology teams to drive a mentality of "one product, one business."
Enhancing security: The growing number of security threats and the increasing complexity of security technologies are driving the need for Retailers to invest more in cybersecurity measures to protect their customers, employees and sensitive information. CIOs and CDOs continue to invest in cybersecurity by adopting DevSecOps to ensure security is at the heart of the product vision. The amount that Retail companies spend on cybersecurity can vary greatly but is estimated to be 4% - 6% of their overall IT budget, with larger retailers spending several million dollars per year and smaller retailers spending several hundred thousand dollars per year or less. Moreover, the increasing adoption of digital and online retail practices, such as e-commerce, mobile commerce and cloud-based services, is creating new security challenges and risks that must be addressed. As a result, retailers are expected to spend more on cybersecurity technologies, such as firewalls, intrusion detection and prevention systems, security information and event management (SIEM) solutions and multi-factor authentication. In addition, regulations such as the General Data Protection Regulation (GDPR) and the Payment Card Industry Data Security Standard (PCI DSS) are driving retailers to invest in compliance solutions and services that also contribute to the increase in cybersecurity spending.
Enabling the contact center: The contact center is evolving fast to bridge the vital needs of both customer and employee engagement. Companies are increasingly adopting chatbots that are capable of conversational AI. With the right implementation partner, chatbots can contribute to upwards of 20% savings in human productivity. Enterprises must carefully evaluate use cases and work closely with the business to drive adoption of AI in the contact center. If implemented poorly, this technology can drive customers and employees away rather than retain them and increase loyalty. There is a clear need to balance self-service capability with the right mix of human touch to ensure companies satisfy their customers and employees and gain and retain new customers.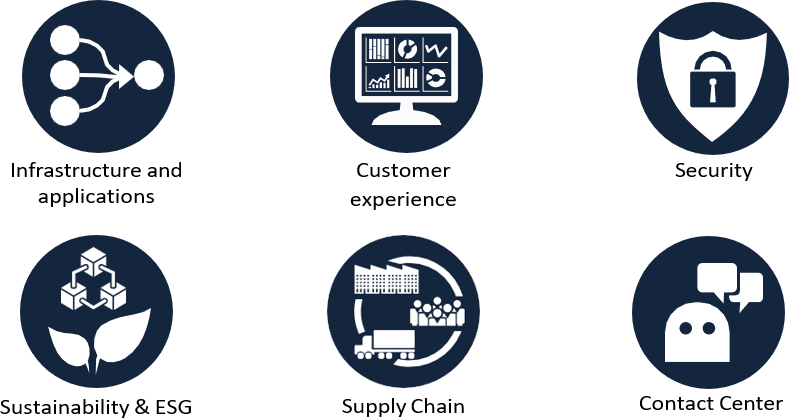 Retail Sector
The Retail sector continues to be the most adversely affected by macro headwinds, rising inflation and energy costs. Running a store is more expensive than ever before. Although revenues have been rising year on year since the pandemic, profits are diminishing and most business are in a state of net loss. There are three key themes Retailers should consider:
Frictionless and automated store experience: This is the single biggest area of focus for traditional retailers. It is about enabling a checkout-free and cashier-less experience for customers who would like to shop and go about their life quickly. The traditional human checkout will continue to thrive but will be complemented by the shop-and-go technology in larger outlets. Companies need to carefully evaluate and ensure a balanced approach between the human cashier experience and the fully automated digital checkout experience. Retail stores of the future, especially big stores, will have a good balance of human and digital frictionless experiences. Consumers today are technology savvy and are looking for quick shop-and-go experiences. This can be made possible only with increased automation, digitalization and a connected-systems approach across the store from cart to exit.
Omnichannel one experience: Consumers are opting for hybrid shopping experiences with online and store channels being equally attractive. The pandemic has accelerated the move toward the e-commerce experience, with most traditional retailers adopting this channel only in the last few years. Enabling an omnichannel experience and providing a seamless customer experience requires business and technology teams to work holistically and with a product mindset.
Home delivery service: Home delivery service continues to be a challenge given most grocers continue to find this a loss-making channel. There is a need for increased investment to improve the delivery distribution network to make this channel a more profitable one. If enterprises focus on solving this, it will be a differentiator for them in the marketplace.

Fashion Retail Sector
Different Fashion Retailers come in different shapes and sizes and tend to face similar issues. Luxury Fashion Retailers have greater margins than low-cost Fashion Retailers, which allow them to focus more on customer experience and quality. Inflation has reduced consumers' disposable income for fashion goods; they are increasingly looking for value purchases through sales and offers. There are three key trends Fashion Retailers should be aware of:
Digital brand experience: the pandemic has accelerated the move toward the digital shopper. Although consumers today are pivoting back to the hybrid shopping experience of both online and in-store, it is clear the biggest challenge will be to ensure the brand feel and experience flows seamlessly across stores through to the digital channels. Enabling an omnichannel experience across the wider channels and bringing a seamless customer experience requires business and technology teams to work holistically and with a product mindset.
Hyper-personalization: We are seeing increasing investment into the potential of using data for hyper-personalization. Data is only useful if companies can harness it and make practical sense of it. Companies must design a data strategy that helps them with product differentiation and adaptation to changing consumer needs. A data strategy should be thought through from the ground up and use microservices, API-led, cloud-first and headless (MACH) architecture to allow a seamless data layer to act as a single source of truth. Knowing consumer behavior trends is the single biggest differential in this space. We are seeing increased investment in data ecosystems, smart analytics & AI/ML at scale and connected ecosystems that leverage IoT to enable and empower the era of hyper-personalization.
AR/VR and the metaverse: Augmented reality (AR) and virtual reality (VR) bridge the digital and physical worlds and are being adopted more and more by Fashion Retailers. The future trend is toward a full 360-degree digital experience, in which a shopper can embrace AR/VR capability to carry out their shopping in a fully virtual metaverse. Retailers are adopting these technologies. With new technology come new changes; it is important that businesses put in place KPIs and customer loyalty programs that ensure they reap the full benefits from these new channels.

Consumer packaged goods (CPG) Sector
CPG has seen a great deal of merger-and-acquisition activity that requires standardization and integration to reap the benefits of scale and size. There continues to be value in simplification, consolidation and modernization in creating a global business model that can scale to meet strategic business objectives. Standardization will be a key theme that continues to resonate across this sector.
CPG companies often face challenges such as sales optimization, operational efficiency, supply chain efficiency and sustainability. CPG companies should enable the direct-to-consumer channel as this is an untapped and lucrative product channel.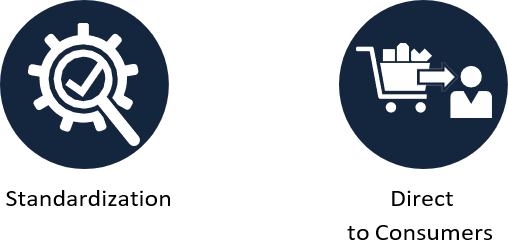 While ISG sees a continued period of pain for Retailers and CPG companies through the current macro headwinds, we also see a path toward long-term recovery and growth. There are many opportunities to optimize costs across the sector to fund future modernization and customer programs.
ISG works with enterprises to review their IT and business strategies and lay the foundation for future success. It is no longer an option to just keep the lights on; it is necessary to invest in modernization and customer-centric programs.