Advisory
Digital Engineering
Unlock business value and outcomes with smart products & services, autonomous operations, and a connected ecosystem.
Top Story
Grade Your Digital Engineering & Manufacturing Maturity
Find out where you stand in 10 mins, using ISG digital engineering and maturing capability assessment tools.
Re-engineering the intersection of strategy, technology, and transformation
What is digital engineering? It is the practice of achieving elevated business outcomes by connecting core capabilities leveraging modern tools and technologies within your existing business and technical ecosystem. It leverages a diverse and harmonized highway of data and information flow to enable your business to become smarter and more connected. Customer personalization, product design, manufacturing, distribution and maintenance are all key value-driven use cases. To achieve these results, you must leverage a variety of technologies, including artificial intelligence, AR/VR, digital twins, 5G and Internet of Things (IoT).

Where are you overlooking value generation?
How do you build the right operating model to support your digital transformation?
Which partners will enhance your engineering capabilities?
How do you drive enterprise change and transformation?
How can you deliver better customer experiences, customized products, and personalized services?
How can autonomous operations help you drive productivity?
How are your service providers engineering value and bringing cost savings across your value chain?
Is your ability to scale-up your pilots across the enterprise sustainable?
What metrics are you tracking, verifying, and validating to measure impact of your initiatives against the proposed business case
The Top Digital Engineering Agenda Items on a CxO's Desk

1.
Designing data threads to enable scale for digital initiatives in-line with strategic business objectives

2.
Converging business and technology towards a software-defined and agile operating model

3.
Establishing & Improving sustainability goals across the entire business value chain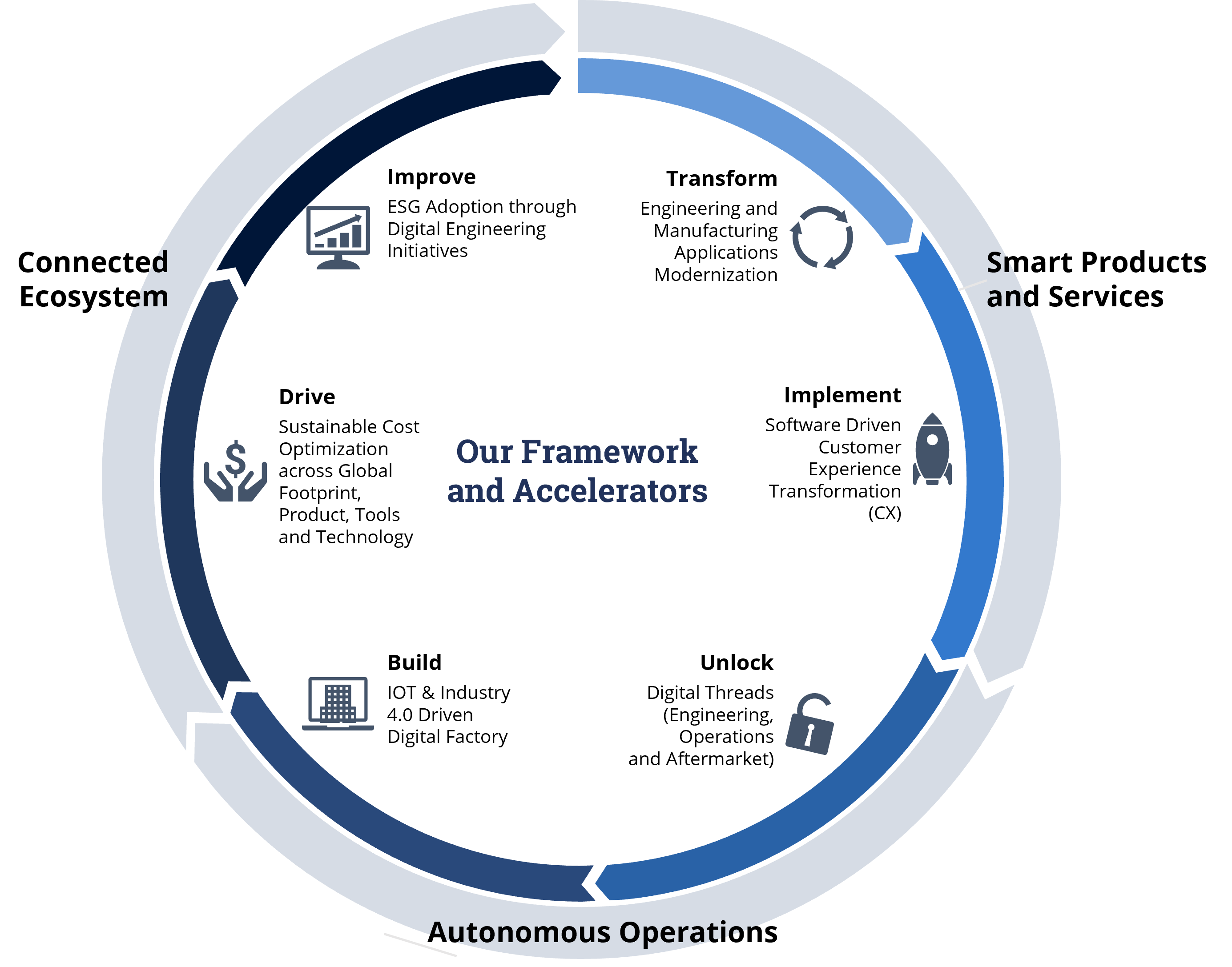 ISG's team of engineering practitioners possesses deep industry expertise and technical skillset that offers independent and objective advisory to help you design your end-to-end digital transformation program.
How can ISG help you in your transformation journey?
Digital Engineering for Enterprises
Assess
We help you assess the current state of your digital engineering initiatives and how you measure against ISG's industry benchmarks and best practices. Based on your current state, ISG works with you to develop a strategy that generates sustainable value.
Define
ISG guides the development of your transformation roadmap, with key element including data and platform, relevant technologies, organizational, and partnership aspects. The ISG Roadmap simplifies the complexity of implementing digital initiatives.

Watch the video above to better understand how our digital engineering capabilities can help you achieve your business goals.
Source and Transform
ISG advises you on your sourcing strategy, guides you in your make/buy/partner decisions and potential sourcing scenarios so that you can effectively implement the roadmap. We support the onboarding of a best-in-class ecosystem which offers flexibility and enables agile contracting to scale and sustain the initiatives. ISG works with you to define the right key performance indicators (KPIs) and governance mechanisms to monitor and track value.
Digital Engineering for Service and Technology Ecosystem Providers:
ISG helps providers create a differentiated positioning in the secured, intelligent, connected economy. We work with you to shape the market.
Assess
ISG assesses your existing portfolio and market relevance to identify gaps and opportunities for improvements.
Analyze
We help you identify whitespaces and redefine your reference portfolio for chosen industry segments and work toward a targeted traction.

Go to Market
ISG's "market making" services help you reshape your go-to-market strategies. This includes:
Deal shaping and market shaping support, such as for responding to the market via RFPs
Ecosystem partnership recommendations
Sales strategy and sales enablement support.
Discrete Manufacturing
Learn about ISG's expertise in the manufacturing space, including automotive, industrial and aviation. Embrace digital transformation at speed and scale for better resiliency, agility, adaptability and spend/value.
Browse
Consumer Packaged Goods
Learn about ISG's expertise in building digital solutions like direct-to-consumer ecommerce, IoT, connected smart homes or demand-driven supply chains. From procurement to your network, software, next-gen sourcing and benchmarking needs, ISG brings deep CPG market and advisory insights to help you achieve your strategic goals.
Browse
Hi-Tech, Telco & Media
Learn how ISG has helped the world's most respected communications, media and technology companies outrun the competition. Leverage ISG's expertise to achieve operational excellence, sustainable growth and savings. Are you considering investing in AI, augmented reality or experiential marketing tech? We can advise you.
Browse
Life Sciences, Med Tech & Pharma
Discover how we can solve your Life Sciences industry specific challenges. We'll help you navigate regulatory hurdles and cost pressures – plus digitize to focus on patient centricity and medical innovation.
Browse
Oil, Gas and Chemical
Optimize your strategic direction and digital projects for defensibility in a transparent industry. Find out how our advisory and solutions can identify and bridge the gaps, enabling your digital transformation goals.
Browse
Discover What's Next
Contact us to learn more about how ISG advisory can help you in your transformation journey.
Contact Us
Featured Event
Future Workplace Summit (New York)
Discover the tech, strategy and cultural shifts to optimize your workforce & get ready for what's next.
Learn more