Advisory
Network Services Optimization
Create an optimal, right-fit network services strategy that adds significant value to your business.
Top Story
Network Solutions Made Easy
The first step in knowing how to optimize your network is knowing what you've got. A review of your network provider services, pricing, contracts and performance – and a comparison to market trends – will form the foundation for a sound and actionable network strategy. Our comprehensive network assessment will help you identify near-term opportunities and make way for significant savings.
Find out how to get your complimentary network assessment now
Proven Results
25

%
Average Savings
Market Relevance
2000

+
Contracts
Market Relevance
2

B
$Annual Market Spend
Reach
75
of Fortune 100 Companies
Optimize your Network Services to Better Enable your Business
Your network is the foundation of your enterprise's business operations.
The underlying network solutions, vendors and associated contracts are all critical components in keeping applications running, employees communicating and customers transacting.
It follows that the network needs to be a key part of digital transformation initiatives. ISG's Network Advisory team has the specific expertise to help you define, source, and migrate to best-fit network technologies and solutions to support digital transformation: network transformation and emerging technologies, strategic network sourcing and network governance and optimization.

ISG has the industry expertise and market capital to deliver results: we have saved our clients an average of 25% by reducing network expenses.
Network Transformation & Emerging Technologies
Design, source, configure, deploy and manage next-generation network services, technologies and supporting infrastructure.
Strategic Network Sourcing
Drive immediate and sustainable cost savings and optimize contract flexibility via renegotiation, RFP orchestration and more.
Network Governance & Optimization
Continuously optimize your IT investments and mitigate risk with services such as invoice audit, credit recovery and governance.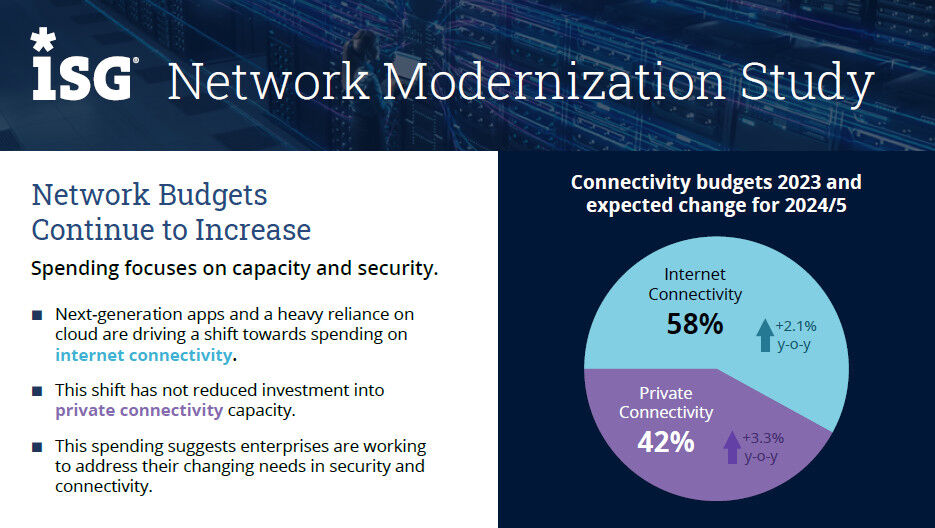 ISG Network Modernization Study
ISG's 2023 Network Modernization Study shows that network budgets continue to increase, with spending focusing on capacity and security.
Network Solutions Made Easy
Accelerate your digital transformation with a modern, future-proof network. Streamline and simplify your network solutions by accessing detailed and current data on your vendor and technology options, insights to help negotiate better pricing, and processes to accelerate next-generation solutions. ISG Network Select™ leverages market research, engineering resources and dynamic tools to assess your needs and recommend optimized network solutions.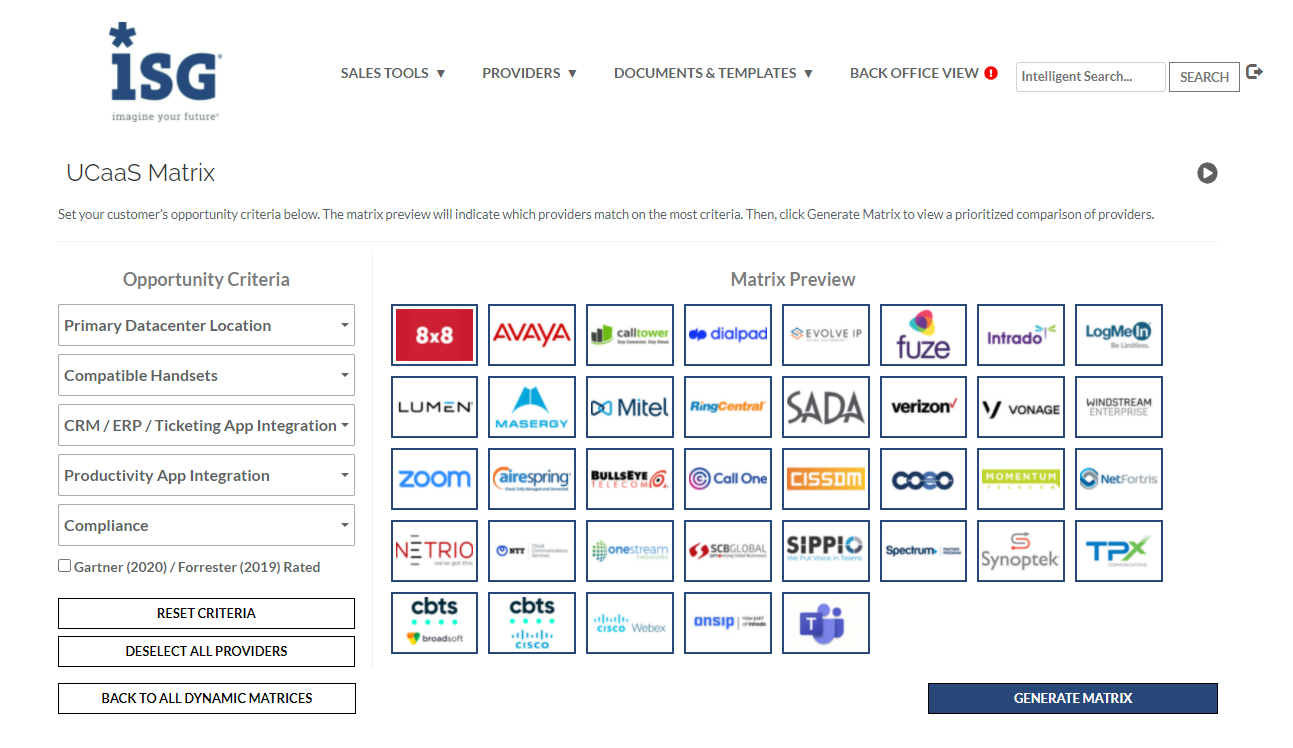 Ask for a demo of ISG Network Select™ today!
Contact Our Network Services Team