Industries
Insurance
Rise above market pressures to position yourself for the new future.
Top Story
ISG Insurance Industry Study
ISG's recent study on the insurance industry shows insurers are focusing on profitability over growth.
Transform your Business, Operations & Technology

Insurance companies are facing many headwinds -– low investment portfolio returns, stagnating premium growth, rising costs, operational inefficiencies, insurtech-driven startups, and a hybrid, globally distributed, workforce.

ISG's insurance practice specializes in business-technology strategies, partner-ecosystem advisory, cost optimization, modernization, IT, digital and cloud transformations.

We work with Life and Annuity (L&A), Property and Casualty (P&C), and Reinsurance companies. Our advisors cover quote to claim. We have advised in new business, underwriting and claims management, as well as policy administration that includes provider and platform selections. We have supported insurers with operating model review and redesign, outsourcing and offshoring, and infrastructure consolidation.

Strategize and Execute Your Partner Ecosystem Roadmap
ISG is a leader in providing partner-ecosystem advisory and benchmarking services to guide our clients to successfully bid, negotiate or renegotiate contracts. With the emergence of digital technologies, we created our robust sourcing methodology to help you achieve appropriate vendor/provider relationships to address newer business and IT models, such as Agile, DevOps and AI. Plus, our tools can help you manage your ongoing third-party relationships and risks.

ISG maintains up-to-date information about emerging technologies from diverse sources, including directly from top business process, technology, TPA (third-party administrator), insurtech and platform suppliers. This enables us to provide deep, unbiased insights about supplier partnerships for automations, transformations, and traditional, outcome-based or futuristic partner models.

ISG's insurance practice can help you:
Drive better results with emerging marketing, data, and cognitive science (AI technologies)

Measure transformation program value

Form next-generation sourcing partnerships considering Agile, DevOps and Digital technologies

Negotiate and benchmark contracts

Drive cloud transformations

Ensure your costs & SLAs are best-in-class

Create a futuristic and modernized contact center

Improve governance and third-party risk management (TPRM)
Across areas like underwriting, claims and wider customer service, the insurance industry is ripe for automation. For legacy insurers, digital transformation is no longer just "nice to have," it's a necessity – especially point AI solutions in underwriting, or conversational AI bots for customer service. ISG Automation has the tools and capabilities to enable this type of automation-led transformation.
Cybersecurity - securing the digital backbone of insurances
Workplace of the Future for the insurance industry
We are prepared to invest toward the success of our clients. With ISG, you can identify the root causes of cost, productivity and service quality issues, and design a roadmap to achieve excellence and sustainable results.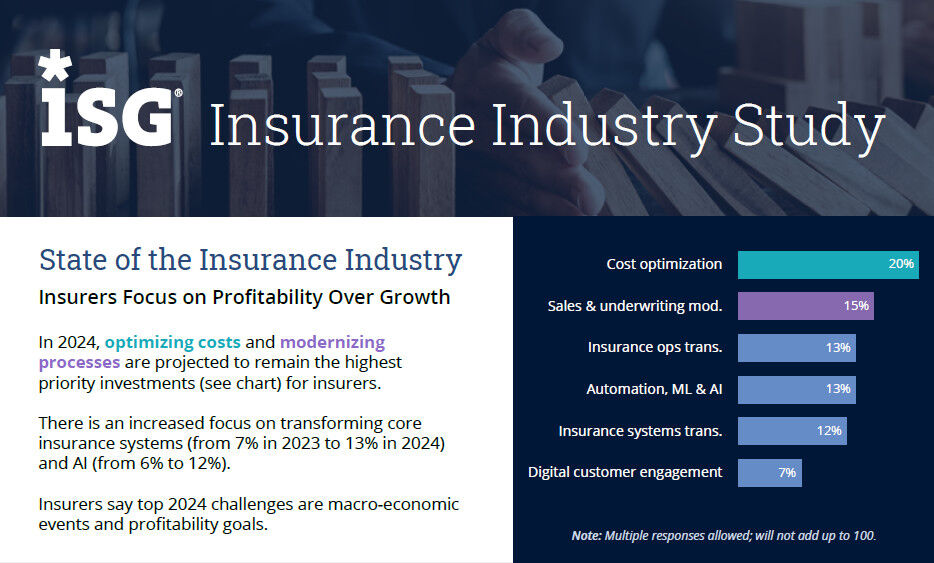 ISG Insurance Industry Study
ISG's recent study on the insurance industry shows insurers are focusing on profitability over growth.