Vendor Management Office as a Service
Without oversight, vendor costs & risks spiral out of control.
There is a well-known, best practice solution: a vendor management office. But even if a VMO is present, running it in-house can be difficult through manual email, excel and other MS product processes. This often results in a VMO office losing strategic value, alignment with providers and efficiency.
After not getting the initial promised value out of contracts, enterprises often end up either:
| | |
| --- | --- |
| Spending more money recompeting the work, or | Delaying innovation & business outcomes by pausing the work entirely. |
Our Vendor Management Office as a Service is a completely out of the box service for VMO built on deep supplier management advisory expertise, our unparalleled contract database and a world-class, AI-driven platform. From end-to-end, ISG assesses, builds and/or optimizes, and runs the vendor management office, including staffing, processes, tools and governance, for all suppliers in the partner ecosystem.
Why should you consider an as-a-service model for vendor management?
ISG's Vendor Management Office can save your organization 30% to 50% of the cost that is takes to effectively govern these complex relationships. Layer on top of that the value of an additional 5-7% of the annual contract spend through enhanced contract management, and the performance and innovation gains.
This is made possible through our tried-and-optimized methodologies, automated processes and real-world transaction database built from 20+ years of supplier management experience. Unlike our competitors who largely offer product solutions, ISG can advise and execute on all aspects of supplier management. Our reputation is built on the tangible outcomes and realized value achieved by clients.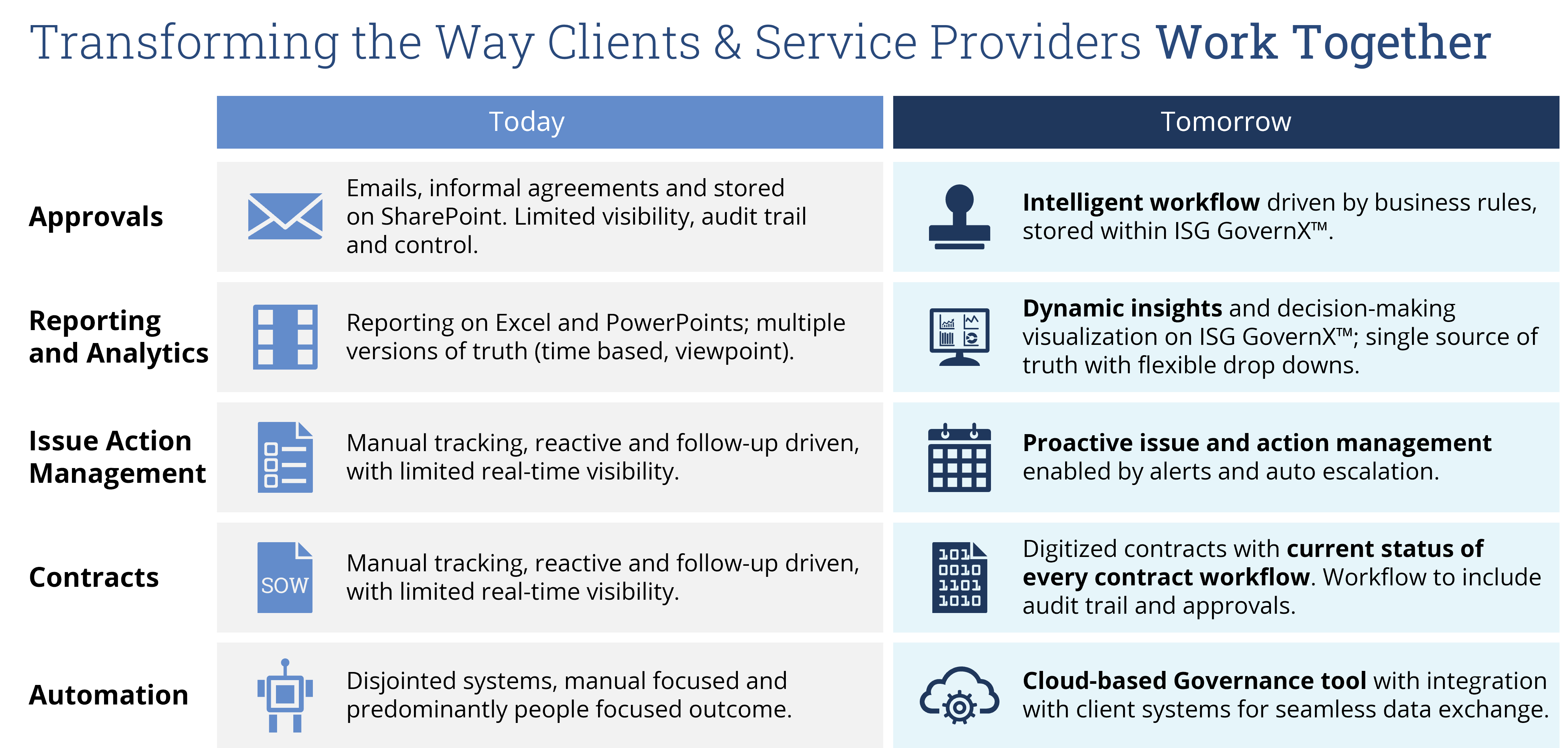 Find Smarter Ways to Drive Efficiency and Manage Risks:
Comprehensive governance for your partner ecosystem
Talent

Our Center of Excellence provides skilled and experienced resources, eliminating staffing and SME challenges.

Process

Our VMO design & methodology was built and optimized over +20 years' supplier management solutioning and advisory work.

Automation

Our AI-based platform delivers a single source of truth, increased efficiency and easy visibility into provider performance & risk.